The CNS Annual Conference will take place in 2021 as a Virtual Conference
As the world continues to grapple with the effect of COVID-19, the Canadian Nutrition Society (CNS) has made the decision to hosts its 2021 Annual Conference in a virtual format.
The CNS Annual Conference is a forum for the presentation of scientific research spanning basic, regulatory/policy, clinical and community nutrition research. It offers an exceptional learning environment and brings together a range of expertise, including food and nutrition researchers, healthcare professionals, opinion leaders, industry representatives, government officials, and future leaders.
Our conference program is dynamic and brings some of the best expertise together to offer an excellent learning experience for all of our delegates. We are committed to maintaining this same quality experience in a virtual format, this includes our Poster and Oral presentations, networking, as well as the chance to be inspired by some of our exceptional award winners.
---
View Program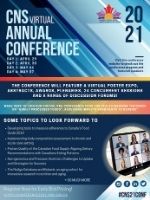 ---
---