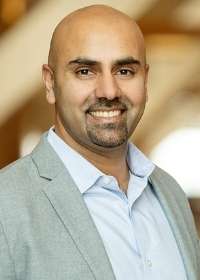 Naiman Khan, Assistant Professor
Kinesiology and Community Health
University of Illinois
Dr. Naiman Khan is an Assistant Professor in the Department of Kinesiology and Community Health at the University of Illinois at Urbana-Champaign. He received his BS Degree in Nutritional Sciences from Louisiana State University in 2006. This was followed by MS (2009) and PhD (2012) degrees in Nutritional Sciences at the University of Illinois at Urbana-Champaign. Following PhD, he was a Postdoctoral Research Associate in the Neurocognitive Kinesiology Laboratory at the University of Illinois. He is currently the Director of the Body Composition and Nutritional Neuroscience Laboratory at the University of Illinois at Urbana-Champaign. His research has taken a multidisciplinary approach to integrate knowledge in the areas of nutrition and cognitive neuroscience to understand the influence of foods and nutrients on specific aspects of attention, memory, and achievement. Dr. Khan has published over 70 research manuscripts and has received funding support from multiple sources including government, private corporations, non-profit food and commodity boards. He has appointments in the units of Kinesiology and Community Health, Nutritional Sciences, Neuroscience, and the Family Resiliency Center at the University of Illinois at Urbana-Champaign. On-going research in his laboratory includes randomized-controlled trials testing the efficacy of nutrition interventions for improving childhood cognitive control and relational memory, processes that are foundational to learning and achievement. The overarching objective of his research program is to generate foundational knowledge in nutritional neuroscience by translating the impact of health behaviors to childhood cognitive function.
Nutrition and Childhood Cognitive Function
Identification of foods and nutrients that promote human cognitive development has the potential to have a lasting impact on quality of life for all populations. Recent work indicates that select markers of diet quality exert beneficial effects on cognitive processes necessary for learning and memory. My research program has relied on cross-sectional and intervention approaches to demonstrate that children with higher diet quality, as indicated by behavioral and biological markers of key nutrients (e.g., lutein, water, and dietary fiber), exhibit greater academic achievement, attention, inhibitory control, and memory. This work have contemporary relevance given the persistently elevated prevalence of obesity and poor diet quality among children in the United States and much of the industrialized world.