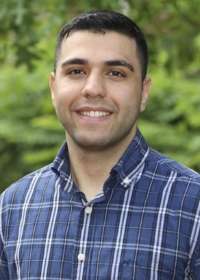 Amar Laila, MSc
Family relations and applied nutrition
University of Guelph
Amar Laila, MSc, is a PhD candidate in Applied Human Nutrition in the department of Family Relations and Applied Nutrition in the University of Guelph. Amar holds an MSc in Human Health and Nutritional Sciences, during which he explored barriers and facilitators to dairy and plant-based dairy alternative provision in families. Using quantitative and qualitative methods, Amar is conducting research on food literacy in families with young children. Specifically, Amar's research focuses on the challenges and the strategies families use to promote food literacy in their homes, as well as interventions to improve food literacy and reduce food waste in families.
Feasibility and acceptability of the Weeknight Supper Savers study, a pilot food literacy and food waste intervention
This presentation will provide a summary of the results from the Weeknight Supper Savers Study, a pilot study of a family-based intervention designed to increase food literacy and reduce household food waste. The 4-week intervention involved an online cooking class, educational messages delivered via text messages, and a food waste tool kit that contained a cookbook with recipes to help reduce food waste and other tools to support meal planning and manage food waste. The primary objective of this pilot study was to test the feasibility and acceptability of all aspects of the program. Post-intervention surveys and interviews were used to examine participant satisfaction. The secondary objective was to examine change in level of household food waste generation, food waste-related behaviours, such as serving leftovers, food waste perceptions and attitudes, as well as food-related behaviours, such as meal planning and serving vegetables. Pre/post surveys and food waste audits were used to examine these secondary outcomes. Results regarding the feasibility, acceptability and preliminary impact of the intervention will be presented.