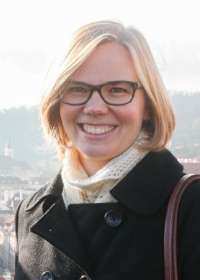 Caroline Sluyter, Program Director

Oldways Whole Grains Council
Caroline Sluyter is the Program Director of the Oldways Whole Grains Council, one of the programs run by food and nutrition nonprofit, Oldways, based in Boston, Massachusetts, USA. She oversees the Whole Grain Stamp program and heads up the Whole Grains Council's educational and promotional activities, including Whole Grains Month, Whole Grain Sampling Day, and a biannual Whole Grains Conference. She is also an active member of the International Whole Grain Initiative and chairs the International Working Group on Best Practices for Public-Private Partnerships and Communication. Caroline holds a MS from the Tufts University Friedman School of Nutrition Science and Policy, and a BA from Smith College.
Making Whole Grains the New Norm
Research shows that whole grain consumption is linked with a wide array of positive health outcomes, and yet whole grain intake falls below recommended levels in many countries. Canada's Food Guide encourages consumers to choose whole grain foods, but additional efforts are necessary to educate and support consumer interest in whole grains as part of a healthy diet, and to encourage manufacturers and food companies to develop products that contain significant amounts of whole grain. This presentation will explore strategies for increasing consumer awareness and understanding of whole grains and look at the role that labeling plays in helping consumers identify whole grain foods and ingredients.