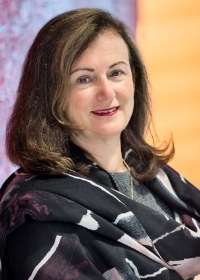 Deborah O'Connor, Early McHenry Professor and Chair
Nutritional Sciences
University of Toronto
Dr. Deborah (Debbie) O'Connor is the Earle W. McHenry Professor and Chair of the Department of Nutritional Sciences at the University of Toronto. She also holds scientific appointments in the Translational Medicine Program at the Hospital for Sick Children and the Department of Pediatrics at Mount Sinai Hospital. At SickKids she served as Director of Clinical Dietetics and Breastfeeding Support from 2000 to 2012 and then as Associate Chief of Academic and Professional Practice until 2013. She currently serves as Chair of the Advisory Board for the Rogers Hixon Ontario Human Milk Bank located at Mount Sinai Hospital. Professor O'Connor's research is focused on maternal and infant nutrition and she has published extensively in the area of the nutritional requirements of pregnant and lactating women; most especially their folate requirements. In addition, she systematically investigates strategies to support provision of human milk and adequate nutrients to vulnerable infants including very preterm infants. Her work is funded by CIHR, NSERC, the Sprott Foundation, and the Lawson Centre for Child Nutrition. Dr. O'Connor has served on national and international committees and working groups, recently including the Canadian Society of Obstetricians and Gynecologists Nutrition Practice Guidelines; US-Canada Governments Joint Dietary Reference Intake Working Group on Chronic Disease Endpoints; US National Academy of Sciences, Engineering and Medicine Exploration of New Evidence for Nutrition During Pregnancy and Lactation: Genesis in Infant Nutrition (BEGIN), National Institutes of Health and Human Development; and the World Health Organization on technical aspects of human milk banking.
Can CoVID-19 and maternal antibodies to SARS-CoV-2 be transmitted through human milk? Implications for breastfeeding and human milk banking
Past global epidemics, such as HIV/AIDS, have had devastating effects on breastfeeding and human donor milk banking as a result of social, policy and public health responses to perceived risks. The impact of HIV-positive women ceasing to breastfeed, in countries where a safe-alternative was unavailable, on infant mortality due to malnutrition and infectious disease has been well-described. In the early 1980s, with knowledge that HIV could be transmitted into human milk, 22 of the 23 donor human milk banks in Canada were shuttered. Early in the COVID-19 pandemic, it appeared that in many countries history may again repeat itself in relation to breastfeeding advice and concerns about the safety of milk banking. This symposium describes the early and on-going Canadian and international partnerships mobilized to provide critical time-sensitive evidence to guide public health recommendations about breastfeeding and human milk banking practices. The session will include an overview of the antiviral components in human milk; especially the presence and role of human milk antibodies. Evidence confirming the low risk of maternal-to-infant transmission of SARS-CoV2 will be reviewed as will the neutralizing capacity of human milk against SARS-CoV-2. Challenges with cross-reactivity of milk antibodies to SARS-CoV-2 with seasonal coronaviruses will be discussed. Findings from screening all milk donations for SARS-CoV-2 and antibodies to the virus over a year in Toronto will be reviewed and best practices recommendations for milk banking shared.