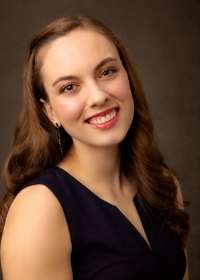 Anissa Armet, Registered Dietitian, PhD Candidate
Agricultural, Food, and Nutritional Science
University of Alberta
Anissa Armet is a Registered Dietitian and third-year PhD Candidate at the University of Alberta studying how dietary fibre interventions impact the gut microbiome and human health. She completed her BSc in Nutrition and Food Science and her Integrated Dietetic Internship at the University of Alberta in 2018. Growing up in an Italian household, Anissa has always loved food. She developed a passion for creating healthy recipes once she began studying nutrition in 2014. Anissa shares her vegan recipes on her Instagram account @dashofnutrition. She also posts instructional videos to ensure her recipes are accessible and easy to follow regardless of the cooking skills of her followers. Since 2016, Anissa has adopted a plant-based diet and, with each recipe she posts, she hopes to disprove the myth that vegan food is bland and boring. Anissa's food photography and recipe development skills have already garnered local attention. She is regularly featured on CTV Morning Live Edmonton for nutrition educational segments, and she also facilitates workshops with the non-profit organization Converse and Cook. Anissa is also co-leading the development of a high-protein cookbook for patients with cancer, where she tested and photographed every recipe. While her Instagram account and associated endeavours have not always been directly related to her research, Anissa has focused her personal brand on providing knowledge translation content to help her followers gain skills to improve their diet.
Building Your Brand as a Graduate Student in Nutrition
In the midst of conducting experiments, analyzing data, and writing manuscripts, building your personal brand on social media can seem like a daunting task that may not be a valuable commitment compared to other scholarly activities. With the right tools in hand, building an effective personal brand can be a powerful way to connect with others and share your research through various knowledge translation strategies. In her presentation, Registered Dietitian and PhD Candidate Anissa Armet will share her journey of building her personal brand and how this was influenced by her graduate studies. Specifically, Anissa will discuss how she develops her Instagram content (@dashofnutrition) to align with her personal brand, how she relates her posts both directly and indirectly to her research, and what strategies she uses to promote her content. She will additionally discuss how developing her personal brand through Instagram has led to unique opportunities to share her food and nutrition expertise in other outlets.